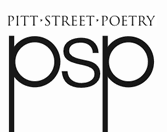 Those of you who have been following this blog for a while will know that last year, in the lead up to the
Newcastle Poetry Festival
, I ran little profiles of the people who were joining me on my poetry panel - tasters if you will. This year the topic will be "How Do Poets Survive", and I'll be chatting with David Musgrave, who was also on my poetry panel last year, Christopher Pollnitz, Rob Riel, and John Knight of Pitt Street Poetry. This is a free event held onMulubinba Room - Newcastle City Hall, and knowing the work of the amazing poets and poetry publishers who are joining me to discuss the topic of publishing poetry and the dynamic between poet, editor and publisher, I am confident in saying that this will be a session well worth attending, full of lively, topical chatter and lots of opportunity (as with last year) for audience interaction. Today I'm going to kick off the series with a little profile on John Knight's wonderful
Pitt Street Poetry
press.
Dr John Knight
Anyone who writes poetry and wants it published will be well aware that there aren't very many traditional publishers out there, and most of them are doing it more for love than for the (somewhat less than copious...) financial rewards. The love is often considerable and the resulting collections exquisite, as is clearly the case with PSP, who started up in 2012 with two collections:
Travelling with the Wrong Phrasebook
by the amazing
Jean Kent
(who was on our panel last year - you can search her up in the archives for more on Jean and her work), and
Light Pressure by
John Foulcher
. Since then, PSP has grown rapidly and now aims to publish 4-6 new collections a year, as well as pocket-sized editions of out-of-print classics from the last fifty years. They've got some pretty big names on their books already including the likes of
Luke Davies
,
Ron Pretty
, and
Mark Tredinnick
- just a few of those you might have heard of, though there are plenty more upcoming poetry collections from names familiar and new, with an eclectic mix of e-books, inexpensive pamphlets, paperbacks, and beautiful casebound illustrated and autographed editions that make lovely gifts. As both writer and reader of poetry, I'm so glad that publishers like PSP are continuing to put out the good stuff.