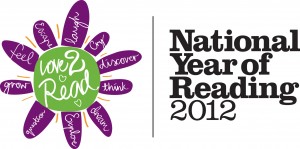 Next week I'll be doing a 2 hour long (taking a few breaths in between) reading event at the Newcastle Regional Library (Laman St). I'll be reading passages from three of my books:
Black Cow
(of course),
Repulsion Thrust
, and
Sleep Before Evening
. This is all part of the
National Year of Reading
and one of many such author events taking place around the country.
Out Loud
is a week-long celebration of reading with random reads of poetry, stories, newspapers, recipes, plays at local libraries and sites around our cities held through from the 21-27 May. If you happen to be in Newcastle NSW on May the 22nd between 11 and 1, please drop by, listen in and say hello (if you can get a word in edgewise - I might even let you take the podium from me).